Mysore Palace, Mysuru, India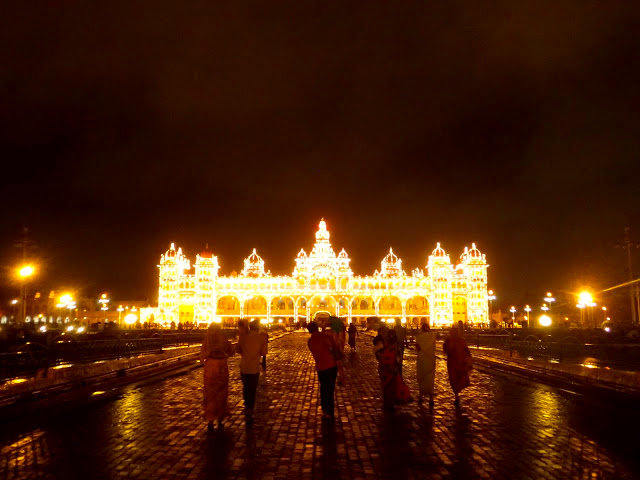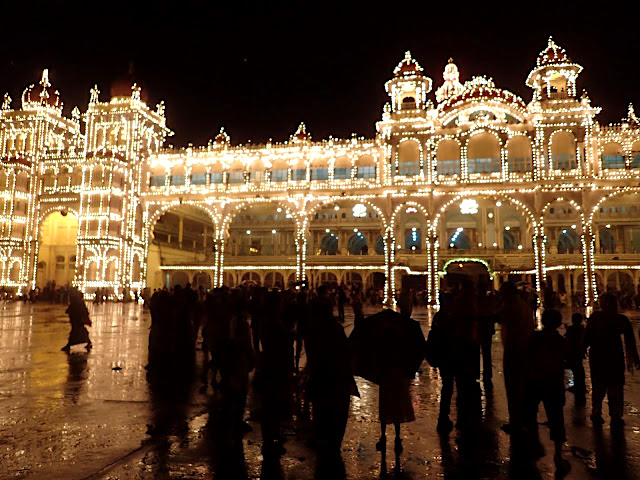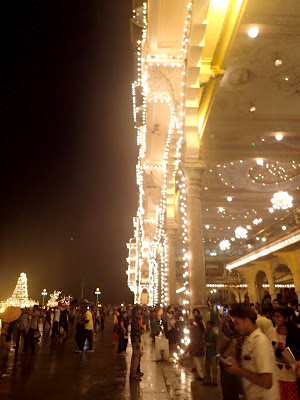 Every Sunday night from 7 to 7:45pm, the Mysore Place in the eponymous city (also known as Mysuru) lights up the nearly 100,000 lightbulbs that adorn its facade, emitting a bright yellow glow against an otherwise black sky. The palace was completed in 1912 after fifteen years of construction, and it seems like the extravagant use of lightbulbs was a celebration of the relatively new technology.
On the night that I went to see the illuminated palace, there was a thunderstorm and heavy rain. A large crowd had gathered under the loggia of the palace, trying to stay dry while waiting for the lights to go on. A government band, dressed in khaki uniforms, played upbeat Indian music under the painted mural ceiling in the loggia's center. The crowd consisted mostly of local families as well as some Indian tourists; there were few Westerners and so my travel companions and I stood out.*
While we waited and took in the scene, one little girl came up to me and said "Hi!," hand outstretched for a shake.** Her siblings, who seemed more shy but just as curious, came up and flanked her. We told her we are from New York, in America, and asked if she was from Mysore. "Mysuru," she corrected us, and it occurred to me that she probably wasn't alive when the Indian government changed the name. I appreciated the correction.
When the lights came on, everybody ran out to the center pavilion to behold the sight and take photos, despite the pouring rain. There was no protecting yourself from the rain; it came ceaselessly and whipped at you from all angles. But it wasn't particularly cold, and once you'd resigned yourself to being drenched, it just added to the festive atmosphere. As a whole we were laughing at how ridiculously wet we were getting and how little it mattered because there was the lights and the music and all of these other people sharing the experience with us.
Every few minutes you heard a lightbulb burst, as a result of the cool rain on the hot glass. It added to the excitement of the moment—like fireworks—as well as perhaps a touch of danger (if you were standing underneath them). After personally hearing so many pop, it made me wonder, like a complicated math problem, how many would burst that night over the entire palace campus...and whose job was it to go around replacing them?
___
*I've found that this is very common in India. In Mysore, as well as other places both in the north and south, the majority of people at the tourist destinations are Indian tourists. To see a Westerner is evidently rare, and so very often people—especially children—will approach you and ask to take a photo with you, or for you to take a photo with their baby. It also tends to have a chain reaction, so once one brave soul decides to come up to you and chat, others will follow suit, and you can end up taking several pictures in front of multiple cameras with different people jumping in. Although it's kind of odd at first to be called out as blatantly different, it's a great way to meet people and have a cross-cultural connection. And you can't help but feel a bit like a celebrity!
**The majority of the Indian population can speak English.