Diving in Bali
From Cambodia, I wasn't sure exactly where I was going to go next, but I knew that I wanted to go to Indonesia to see Komodo Dragons (lifelong goal) and to see the bizarre phenomena of the color-changing lakes around the Kelimutu volcano. However, neither of those excursions need last very long and, from what I'd read, the towns from which one departs to do them are not ones you'd want to stay in for long.* My Singaporean friend was going diving in Bali in the meantime and suggested I join her. So I booked a flight from Cambodia and a room in Tulamben, Bali.
I'd thought about diving before. Daydreaming at work, I'd look up diving courses that I could take in NYC so that I could go on far away vacations and see what I'd never seen before—coral reefs and anemones and sharks. Eep! Yes, I was scared of being deep underwater and suddenly being surprised by a predator, trapped by the decision of being killed by it or rapidly ascending to paralysis from the bends. But these are the kinds of fears that I push aside. One fear that I could not push aside, however, was of what I would find in the East River, which is ultimately where one ends up doing open water dives in NYC. What lies beneath that water is much more frightening! So I'd shelved the idea and frankly forgotten about it.
As luck would have it (or perhaps just logic), my hotel in Tulamben also had diving and they helpfully emailed me to see if I'd like to sign up for a course during my stay. My desire to dive came back to me and everything seemed as if it were aligning specifically for this to happen. I enrolled in the open water diver certification course and immediately started doing the online coursework.
There are two major diving training organizations: PADI and SSI. PADI seems to be the more common one, as everyone I've met has done theirs through it. My certification was through SSI, but they're both recognized at diving centers worldwide and follow the same curriculum: online coursework, where you read a textbook and take quizzes, followed by pool dives and then open water dives.
Nothing before the open water dive was remarkable to me, save perhaps for having to pour water down my wetsuit as I put it on. Breathing through your mouth instead of your nose is odd, but it's the same as snorkeling (just consciously breathe so as not to freak out and hyperventilate). But there was something immediately freeing as I was struggling to put on my flippers while standing in the water and realized that I don't have to keep my head above the water while doing it; I could put my head underwater and breathe normally while looking at my feet. It sounds so simple, but it was a revelation. As I started to swim, I learned that I could move up and down with very little effort. And of course, when immersed in a natural environment, beauty seems to come to you. Simple.
My second dive was against a wall. I was intimidated at first by the idea of a very deep depth beneath me—either for me to fall into or for something monstrous to come up from. But it was wonderful! There are so many different types of environments—corals and the fish within them and the larger fish around them—that were implanted in this wall. I'd had a dream when I was a child that I could make myself small and explore tiny cities; swimming by these little communities instilled in me the same desire. Another recurring childhood dream was to fly, and swimming around this wall gave me the feeling that I'd accomplished that dream. Imagine it: you're above a large pit, but instead of falling down you're moving forward, arms stretched ahead of you like Superman.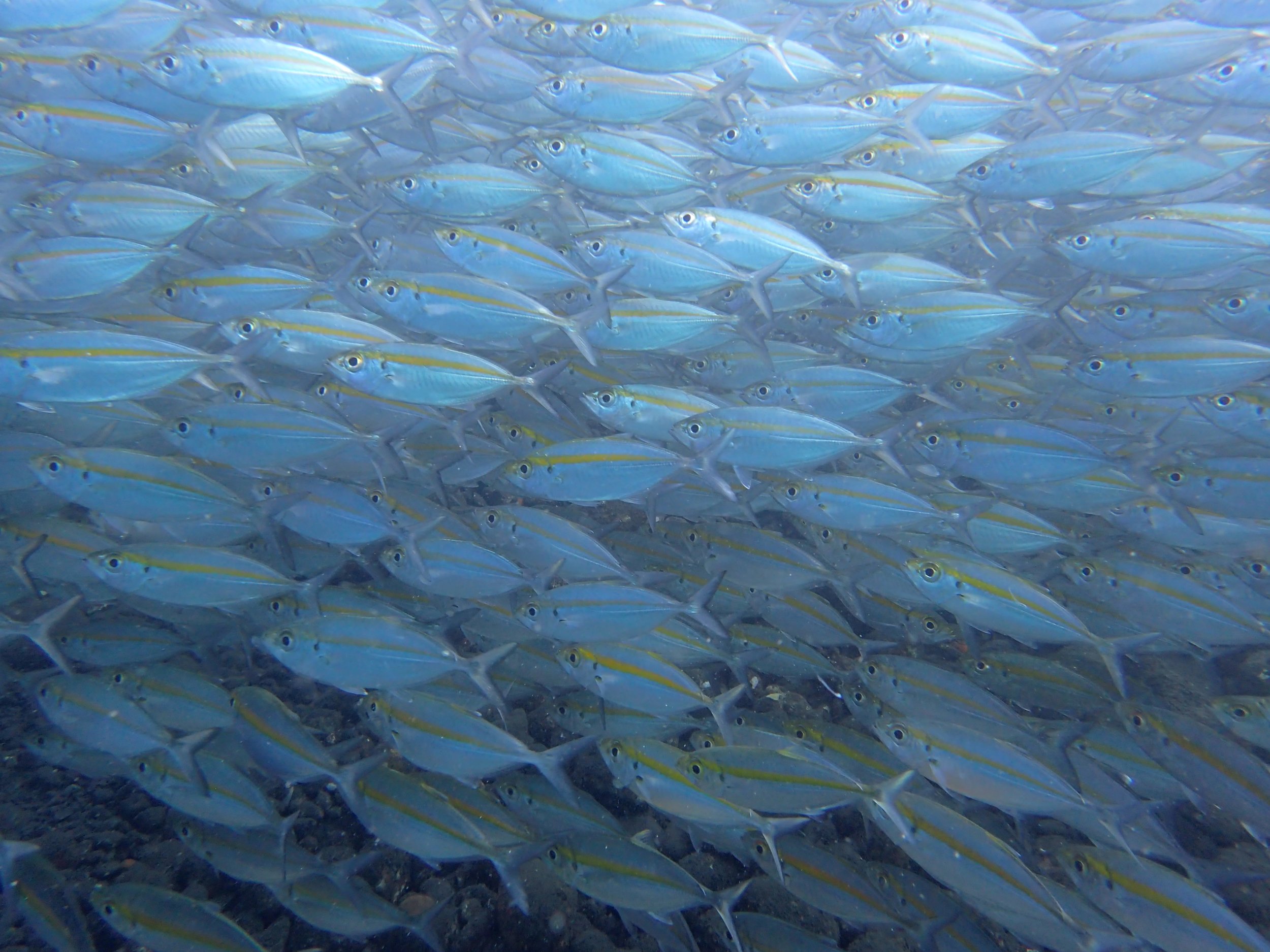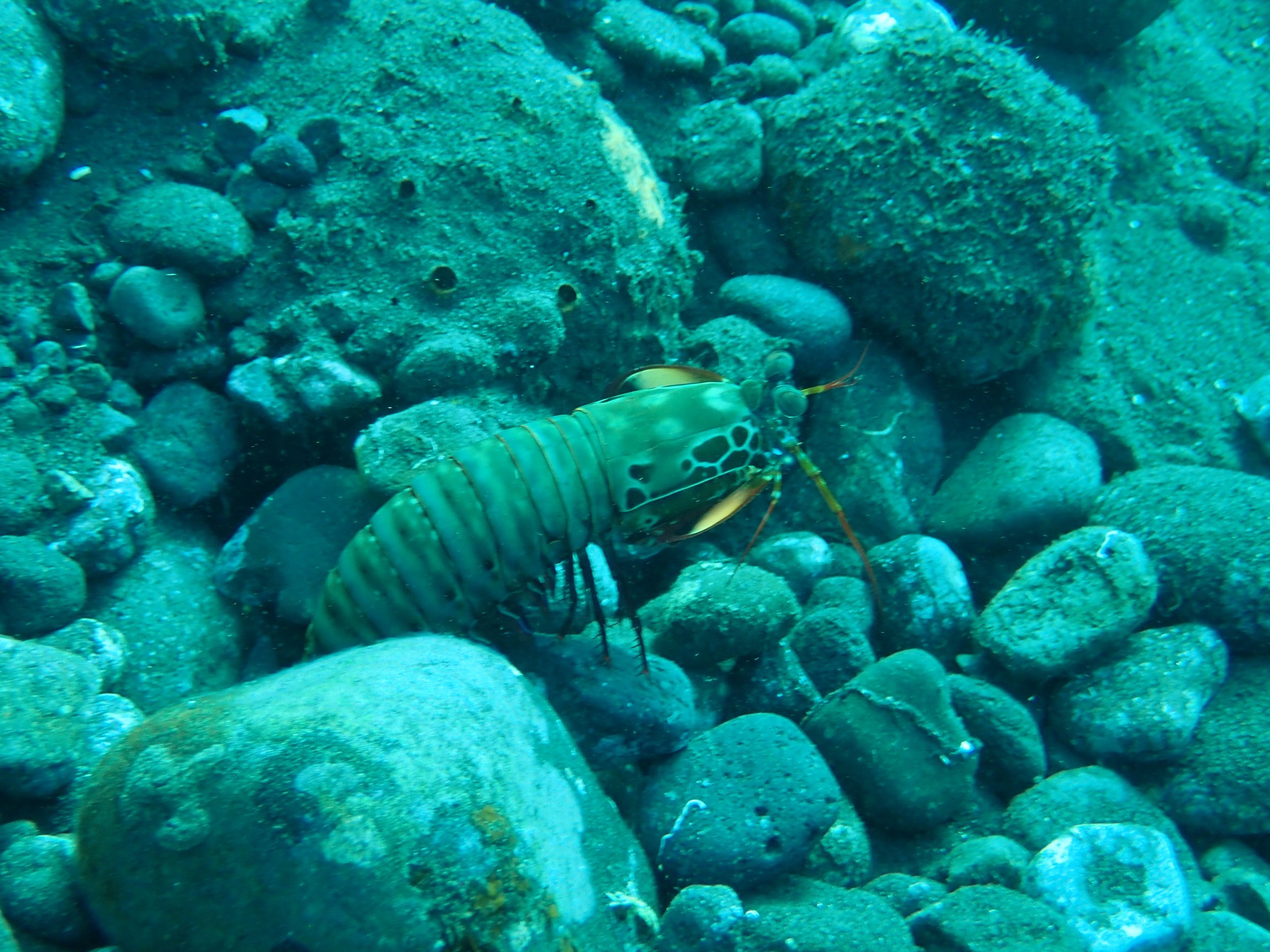 The shore of Tulamben is rocks, not sand, making it an unattractive beaching destination. The draw to this small town is a shipwreck that lies in shallow water not far from the shore (which is very unusual for shipwrecks), making it accessible for any level diver. The ship is the USS Liberty, a US Army cargo ship from WWII that was torpedoed and beached during the war. The eruption of the nearby Mount Agung in 1963 jostled the ship out to sea, where it remains.
Along the coastline in the morning, one sees women carrying tanks on top of their head, walking them to the dive spot so that divers don't have to wear the heavy loads on their backs. I was told that the women have the best paid position (by my instructor, perhaps with a tinge of bitterness at the comparative lengths of their workdays) because they're paid by how many tanks they can carry. But considering that they balance multiple full tanks on their heads at a time, and that an empty tank is about 35 lbs, I say more power to them. Money earned. They return after the dives to carry the empty canisters back. The men, teenaged through 20s, are the ones who prep the gear and take the diving groups out to water.
My final dive was to the shipwreck. I tried to imagine what the ship looked like complete and above the surface as I "walked" through the doorways, as if I could perform some sort of time travel. On the outside of the wreckage grew such vibrant fluora that I was surprised that I was seeing such bright colors through the veil of blue ocean water. I had a twinge of sadness that I couldn't see them bloom while walking down a sunny sidewalk on another day. In the shallow water sand around the shipwreck were hundreds of garden eels extended upright out of their holes, swaying and weaving. As I watched them dance I noticed a flatfish hiding in the sand beneath me. Soon I was low on oxygen and had to leave this underwater world, but feeling loathe to depart, I promised myself that I'd come back (hopefully truthfully) and left with a renewed sense of need to conserve this underwater world and those like it.
*After having gone I disagree with that conclusion, but more on that in a different story.