Baltimore and Its Artscape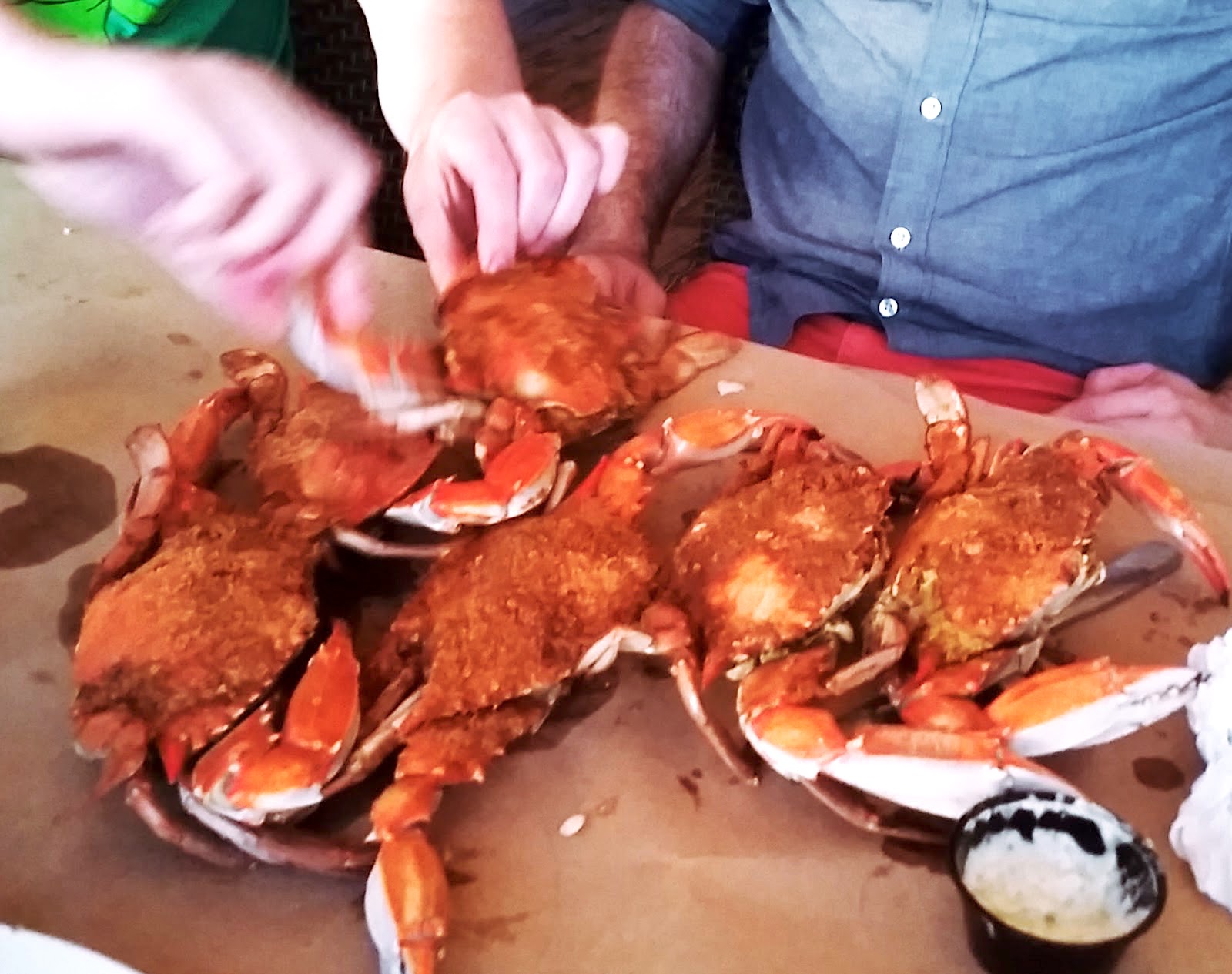 Baltimore is a city that has intrigued me throughout my adult life. Coming from New York and having lived briefly in D.C. (from which I would escape on weekends to Philly), Baltimore has always been close and yet mysterious and unknown. I've done a couple of one-day trips to the inner harbor area, but it feels very sanitized. If I'd thought the rest of the city were really like that, I wouldn't bother trying to explore it.* But I've always suspected that there's something very cool and hip and real about Baltimore; for lack of a better descriptor, something that would appeal to a thrift store shopper like me. So when I was invited by friends to go to its annual arts festival "Artscape," I jumped at the opportunity.
We arrived pretty late Friday night and joined our friends downtown. Soon I found myself once again (and maybe a little disappointedly) in the inner harbor area. But rather than squeezing into the loud and very crowded bars that dominate the nightlife there, we turned a corner and went to an almost empty dive bar with a pool table. This is where I made my first authentic Baltimore discovery—the "Baltimore Breakdown." It's a combo drink special that includes a can of Natty Boh beer and a shot of Pikesville Whiskey, both proudly local.**
The following day was gorgeous, and though we'd planned on going to the art fair all day, we instead went swimming. I don't regret this decision. It was delightful.
For dinner we decided to consume another local treat—Maryland crabs. We waited an hour to be seated at some famous restaurant on a dock (with beautiful views of the sunset) in order to spend another hour tediously picking apart crabs that had been inundated with Old Bay seasoning. Though this was not my favorite meal, I was very grateful for having had this Baltimore experience. (In the future, I'd like to try the crabs without the seasoning. Would that be considered a taboo request?)
It was nighttime by the time we got to the art fair. Where we entered, there was a DJ'd dance area amongst blown up spaceships, and the DJ was suspended high above the dancers in a crane with spotlights beneath it. This extraterrestrial vibe seemed to go along with the Artscape theme "Explore What's Out There." Once we got past the inflatable art, we were amidst the more normal food/drinks/goods vendors of street fairs.
Artscape calls itself the nation's largest free arts festival, and I'd believe it. Afterwards I looked at a map and realized that we'd only covered a third of the festival, and we had walked the length of one street that was closed (about half a mile). What impressed me the most as we walked along Charles Street was how great people were dressed. I mean, it was so damn creative and individualistic that I was inspired by looking at them and wanted to introduce aspects of it to NYC. And it wasn't over the top, or art students putting on airs. It was just real people showing off their style in subtle ways. It was refreshing.
Another thing I perceived on this walk was that Baltimore may have a love affair with boxed wine. I'd heard my hosts talking about "slapping the bag," and I just figured that they were having a dude moment, perhaps reliving college. But then as I was stopped at a little outdoor concert along the strip, I heard a group of strangers talking about "slapping the bag." I turned to see them all passing around a plastic bag of red wine and, well, drinking and slapping it. Then they handed it to one of the two amazing stilt walkers who were just hanging out and dancing, and she slapped the bag! Apparently this is a thing.
After walking the length of Charles Street, we decided it was time to hit up some bars and—in all honesty—the two bars that we went to made me wish I could be close to Baltimore all the time. The first was called The Crown, and it was in a one-building strip mall, next to an empty lot and above a Korean restaurant. It's a fairly large place made up of two rooms, the red room and the blue room. The blue room seemed pretty popular and had karaoke with little cocktail tables and a bar. The red room was my preferred as that's where one could go dancing. The DJ (again, a very stylish man) was playing all 60's soul/70's funk songs. I can't describe the crowd because it was really a mixed bag, but the vibe was friendly and fun.
Next we went around the corner to The Windup Space. I thought The Crown was my new favorite bar until I got to The Windup Space. It is one large dance room that had a band on stage, wearing matching blue-metallic suit jackets and playing 50's and 60's rock 'n' roll and soul tunes. In front of them were two equally-retro-clad go-go dancers. The energy was unstoppable, and everybody was shaking a tail feather. The icing on the cake was how affordable the drinks were (particularly compared to NYC)—two mixed drinks and two IPAs came to $20.
There was one more spot on the list, Ottobar (supposedly a unicorn bar that's good for dancing and pool), but we ran out of time before we could get there. I just consider it another reason to return!
___
*Please note that the inner harbor has a wonderful aquarium. If you go on the weekends, you can see volunteer scuba divers cleaning the tanks!
**Although I will point out that Pikesville Whiskey, though originally from Maryland with a long history dating back to the 19th century, is now made in Kentucky.